WHAT A TIME! - RYAN'S FANCY TV SERIES WAS THE BEST OF TIMES
Check out these videos from Episode 6:

In the summer of 1975, CHCH TV in Hamilton, Ontario produced a music variety show that brought together two giants of the traditional music community. Tommy Makem and Ryan's Fancy presented the boys at their finest and featured special guests that represented the best of the era in the folk music community.

---

Series summary from The Queens University Directory Of CBC Television Programs.

Air Times:
1972: Jan 7 - Apr 1, Fridays, 7:30 - 8:00 pm
1978: June 13 - Sept. 5, Tuesdays, 7:30 - 8:00 pm
1981: June 20 - Sept. 5, Saturdays, 6:30 - 7:00 pm

Denis Ryan, Dermot O' Reilly, and Fergus O'Byrne comprised the Irish string band, Ryan's Fancy. Their syndicated series, which also starred Tommy Makem, had run for three years, and was produced through the independent Hamilton station, CHCH-TV. Each show in their CBC series, as might be expected, included a segment of performances in front of an audience, taped in St. John's. What made the show different, however, was that the band and the crew traveled to different locations in the Atlantic provinces to set the themes of the individual programs of songs of the sea, of Atlantic Canada, and from the Celtic tradition. Producer Jack Kellum, for example, set shows on a Newfoundland schooner, in the Dorchester penitentiary in New Brunswick, and on Prince Edward Island--a place seen all too seldom on the CBC. The film segments were shot by Douglas Pike, with sound by Bill Murphy and lighting by Les Button, and they were edited by Joe Murphy. The production enlisted the services of folklorist Wilf Wareham for research, and the shows were written by Al Pittman.

Network programs from the Atlantic centres are all too rare, and Ryan's Fancy was a creditable example of how productions might advance from the tried and true models of Don Messer's Jubilee and Singalong Jubilee.
TELEVISION SUMMARIES
Here are a few episode descriptions for the Ryan's Fancy television series on the CBC. They are listed in chronological order as it is known but the list is far from complete. Episode titles are given when they are known. All dates and descriptions were provided by CBC St. John's. It should be noted that all episodes were originally broadcast as part of the "Canadian Express" series unless otherwise noted.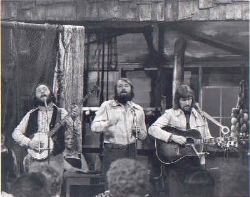 April 30 1974
Ryan's Fancy play various Newfoundland songs with their special guest Maurice Hogan from Flatrock.
June 15, 1976
Ryan's Fancy on board the Norma & Gladys - various footage of Ryan's Fancy who sing various songs of the sea in Newfoundland with interviews with people who sailed on the Norma and Gladys.
March 11, 1977
Ryan's Fancy show with special guest Ike Rich and Horace Goudie who were trappers in Labrador. The Ryan's Fancy crew are in a home in Labrador where Josie Penny performs for them, Sam and Bertha, who are from Nain, sing An Inuit Lament in their native tongue. Mrs Goudie, Horace's mother, tells how it was years ago.
March 18, 1977
Ryan's Fancy Show where the crew visits the community of Branch, St. Mary's Bay in Newfoundland with special guest, 85 year old Michael Nash, and Gerald Campbell who plays the mouth organ. Denis sings Let Me Fish Off Cape St Mary's.
March 27, 1977
Ryan's Fancy Show who travel to Cape Breton Island in the Vale of Margaree with special guest Frances MacDonald who is a Scottish Piper and was a member of the Black Wash Regiment. The crew visits Frances and his family
June 15, 1977?
Ryan's Fancy visit Bell Island. Special guest is Harry Hibbs of Bell Island.
June 30, 1977?
Heritage - "Cape Shore Irish Parts 1 and 2" Ryan's Fancy visit the Cape shore in Newfoundland, an area of Irish communities that has maintained their culture from generation to generation. They visit Branch, Cusslet, St. Brides, Gooseberry Cove and Patrick's Cove. Interview with Father Charlie Kelly, parish priest of St Brides.
June 15, 1978
Ryan's Fancy with a special show visiting a maximum security penitentiary in Dorchester, New Brunswick. Frank Pie a resident at the prison who plays the fiddle and Banjo, writes songs. Interview with Hank Sheehan, Director of Dorchester Penitentiary.
June 15, 1978
With special guest Rufus Guinchard, a fiddler who is 79 years old and is still performing.
June 5, 1979
Ryan's Fancy visit several french communities across the country. In Newfoundland they go to the Port Au Port Peninsula and talk with their special guest Emile Benoit. Other guests include Cabrriell in Alberta, Mona Goutier in Manitoba and the Evangeline Dancers in PEI.
May 16, 1980
Songs of the Islands
Ryan's Fancy visit four Canadian Islands & singers & songwriters living there. They visit with Valdy on Vancouver Island, John Martin & his group Blue Herring on Prince Edward Island, Ron Hynes in Newfoundland and Kenzie McNeill on Cape Breton Island.
May,23, 1980
Contemporary Newfoundland Music
Ryan's Fancy Show with special guests the Wonderful Grand Band, Bobby Lambert and Laverne Squires. Segments of the show were taped on the beach at Logy Bay. Interview with Sandy Morris about the formation of the Wonderful Grand Band.
---
DATES UNKNOWN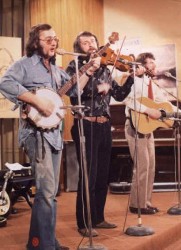 -Ryan's Fancy Show where the crew travels to Charlotte County in New Brunswick. Special guest is Bill Marshall, who is a naturalist, war veteran, amateur geologist, trapper and woodsmen.
-Ryan's Fancy show with special guest Mac Masters of Arnolds Cove in Placentia Bay. Mac Masters is an old timer who once sailed on the sea in the times of Wooden Ships and Iron Men.
-Ryan's Fancy show where the crew travels to Cape Breton, Nova Scotia with their special guest Mike McDougal who is a fiddler, along with a fishermen in Ingonish, and the Town and Country Dancers of Sydney.
-Ryan's Fancy Show with their special theme Songs of the Land. The crew visits Prince Edward Island with special guests Tommy Banks who is a farmer, Merk McCarden playing piano, George Budgell who is a fiddler and auctioneer.
-Ryan's Fancy Show with their theme war songs and their guests are men from Halifax, who have lived through and experienced first hand the war life.
Ryan's Fancy Show with the special theme of Pioneers where they go visit Hans and Susan Fuzzbur in Mud Lake, Labrador
-Ryan's Fancy Show who perform for the children at Mount Cashel Orphanage for the opening of the show with a special theme of young people and their music
---
TITLES
Here's a list of titles or subjects for which no summaries were available or which have not been matched to their appropriate program.
-Codroy Valley
-Minnie White
-St. Lawrence
-Times
-Bonavista Line
-Bay D'Espoir - Rum Running
-Acadians
-Labrador Song
-Allister McGillivary - Harbour Breton
-Songs of the Valley
-French element
-Atlantic Canada
-Ingonish
-St. Stephens logging
-Songs of the Sea
-Loyalists
-Lee Creemo
-Otto Kelland
-PEI Farming
-Change Islands
-Branch Immigration
-Children's Winter
-Historic Cities with Mayor Dorothy Wyatt
-Best of Ryan's Fancy
-Family Music
-Rising Tide Theatre
-Songs of the North Woods


TV SPECIALS
All On A Summer's Day
CBC, July 5 1979
Ryan's Fancy at Kings Landing Pioneer Village n New Brunswick. Guests are Jennifer Whalen, Mike MacDougall, James Keane & Warwick Learning.
---
Christmas At King's Landing
CBC, Dec. 26 1979
Ryan's Fancy Return to King's Landing for a Christmas Special.
---
Home Boys Home
CBC, June 1, 1980
Ryan's Fancy return home to Ireland & perform for family & friends. Special guest is Mary O'Hara.
---
People Of The Islands
CBC, June 5 1980
Part of the "Heritage" series, Ryan's Fancy perform at the Anglican church hall in Arnolds Cove, Placentia Bay. Interview with poet Al Pittman who wrote the words of The Rocks of Merasheen & Pat Byrne who wrote the music. They also visit various abandoned islands in Placentia Bay. Guests also include Clyde Rose.

---
MOVIES
Pirate's Gold
CBC, Feb. 2 1983
Two children, Sheelagh Chadwick and Jamie Pinhorn go to Kidd Island, which is haunted, looking for pirates gold. Show features Ryan's Fancy, Beth Harrington and Michael Cook as the ghost of Captain Kidd.