BIOGRAPHY

"North America's Best Irish Band!"
- Peter Gzowski, This Country in the Morning

Ryan's Fancy was a conglomeration of three Irish emigrants to Canada, that rose out of the folk music scene of the late 1960's. Denis Ryan, Fergus O'Byrne, and Dermot O'Reilly, had met and played together as members of various musical incarnations (most notably Sullivan's Gypsies and Sons Of Erin) before finally taking the stage as a trio in 1971 as Ryan's Fancy.

After relocating from Toronto to St. John's to attend university the group became popular on the local music scene and regular performers at the Strand Lounge. Shortly after meeting CBC television producer Jack Kellum the trio became stars of there own national TV series and traveled throughout Atlantic Canada highlighting the areas rich cultural and musical heritage.

In 1983 after many successful recordings and a long run on television the three members of Ryan's Fancy decided to disband in favour of individual pursuits but their effect on the Atlantic Canadian music scene resounds strong to this day. The current popularity of East Coast music owes a lot to the achievements of Ryan's Fancy.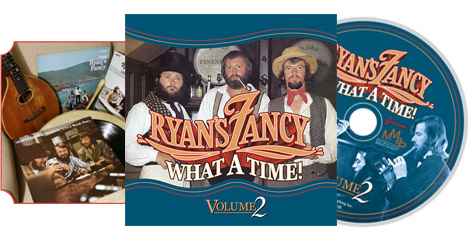 In 2001 The group released a selection of songs recorded specifically for their television program on a CD entitled Songs From The Shows, an excellent reminder of this wonderful band. Then in 2011 Sing Song Inc. released the first CD collection of the band's greatest recordings as taken from their 12 albums - the first time these recordings have been released on CD. Entitled "What a Time! Ryan's Fancy, A Forty Year Collection" features 42 songs on two CDs and is available in stores and online now.


INDIVIDUAL BIOS
---
"…hard-driving balladeer with a voice the size and strength of an oak barrel."
The Telegram, St. John's

"…plays the banjo like he was born with it, and sings with a freshness not to be found in plush nightclubs downtown.
Daily News, New York

FERGUS O'BYRNE

Born in Dublin, Ireland, Fergus immigrated to Canada in 1967 where he became a founding member of the Irish folk band Ryan's Fancy. In 1971 the trio moved to St. John's Newfoundland and for the next fourteen years toured extensively throughout North America and Ireland. Ryan's Fancy recorded thirteen albums and their popular television show was broadcast on the CBC national network for five years. He has since followed a busy solo and freelance career, touring throughout Canada the United States, Europe, and Hong Kong.

Since 1987, when he graduated from Memorial University of Newfoundland with a degree in Education, Fergus has developed and produced a program of songs, stories and slides exploring the connection between Ireland and Newfoundland. He continues to tour this program in schools throughout the Atlantic Provinces. He has also contributed to the Newfoundland School Curriculum for Music at the intermediate level and has been involved in several ArtsSmarts projects. . Fergus also gives lessons in Bodhran and Banjo

From 1994 to1997, Fergus served on the Board of Directors of the St. John's Folk Arts Council, where he played an active role in producing special events featuring the song, story, music and dance traditions of Newfoundland. He also served on the programming committee of the Newfoundland and Labrador Folk Festival in St. John's, the province's longest running and largest folk festival. He is currently facilitating a program for young traditional folk musicians and singers under the auspices of the St. John's Folk Arts Council.

His album Wave Over Wave, with singer/songwriter Jim Payne, garnered them a nomination for East Coast Music Association 1997 Roots/Traditional Artists of the Year. Fergus was also a member of the legendary Newfoundland band Tickle Harbour, whose album Battery Included, besides being an ECMA nominee, won three awards at the 1999 Newfoundland Music Industry Association Awards. In 2001, along with Dermot O'Reilly, he produced a Ryan's Fancy retrospective CD Songs From The Shows, featuring songs from the acclaimed 1970's CBC National television series, Ryan's Fancy. He also can be heard on recent recordings by Newfoundland artists Great Big Sea, and he has contributed to several anthologies of Newfoundland music Fegus recently wrote, in collaboration with Kalem Mahoney, the soundscape for Rising Tide Theatre's production of Kevin Major's acclaimed play No Man's Land. He presently records and tours nationally and internationally with Jim Payne and the band A Crowd Of Bold Sharemen. He also still performs with Dermot O'Reilly around St. John's on a regular basis.

In February 2004, Fergus, as part of Ryan's Fancy, was awarded the ECMA Dr. Helen Creighton Lifetime Achievement Award. This award recognizes an individual or group who has had a profound and lasting effect on the Atlantic Canadian music industry. In April 2005, along with Jim Payne, he was the recipient of the inaugural Arts In Education Award by the Newfoundland and Labrador Arts Council.

He plays banjo, guitar, concertina and bodhran.
---
"A fine tenor voice and a virtuoso n the tin whistle."
The Herald

DENIS RYAN

In 1983, the three members of Ryan's Fancy decided to pursue separate careers. Denis, who makes his home in Halifax, Nova Scotia, has since been working in the investment business.

He is involved with numerous community projects including serving as the national chairman of the fundraising committee of the D'Arcy McGee Chair of Irish Studies at St. Mary's University. In 1994 he received an Honarary degree, Doctor of Letters, from St. Mary's University in Halifax. Denis is also the founder of NovaScotian Crystal, located on the Halifax waterfront. It is the only mouth-blown, hand-cut crystal company in North America.

However, his interest in music has never waned. He was the host of CBC's nationally televised show "Up on the Roof". He has appeared at the Rebecca Cohn Auditorium in Halifax with Symphony Nova Scotia and hosted the spectacular Symphony Explosion at the Halifax Metro Centre in 1996, which raised over $150,000 for the Symphony. Denis continues to emcee many charitable and other events. He has also released two solo albums titled "Mist Covered Mountains" and "Denis Ryan & Friends: Here and There".
---
"A musical legend - Dermot O'Reilly became an icon of Irish music in Newfoundland and Labrador and made a profound contribution to the music industry in this province."
Premier Danny Williams
Newfoundland & Labrador

DERMOT O'REILLY

In 1983, after the group "Ryan's Fancy" disbanded, Dermot continued to perform as a solo artist in clubs and concerts. He also set out to develop an audiovisual production featuring slides, narration and live music. This show was designed for presentation in a high school gym or concert hall setting to junior and senior high school students.

After traveling throughout Newfoundland, Labrador and Cape Breton with the school show for a number of years, Dermot turned his attention to Video and Television Production through his company Piperstock Productions Limited. As well as industrial and public service videos, he also produced a number of musical documentaries, two of which "Rigs, Jigs And Songs From The Heart" and "Cain's Legacy" are currently in distribution as videocassettes.

Dermot set up a sound recording facility in 1993 to produce and release recordings by local artists. To date, 25 CDs have been produced at the studio. As well as working on current recording projects, including his A CD of is own. He continues to develop ideas for TV productions and remains a local favorite performing in clubs, festivals and in concert.

In 2007 Dermot passed away, leaving us with his wonderful music and memories.
REMEMBERING DERMOT
Dermot O'Rielly
(1942 - 2007)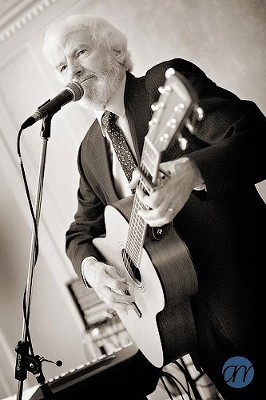 On February 17, 2007, our good friend Dermot O'Reilly passed away at 64 years old. He is survived by his wonderful wife and three beautiful children.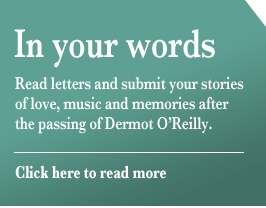 ---
MEDIA COVERAGE OF DERMOT'S PASSING
O'Reilly lauded for warmth, humour and talent at funeral
Hundreds of people filled a small church north of St. John's Thursday to pay their final respects to a folk music legend.
- Read full story
................................................................
O'Reilly left legacy in his songbook, friends say
'His songs are timeless, and just beautiful,' colleague laments
- Read full story
................................................................
Dermot O'Reilly: Ryan's Fancy member
Dermot O'Reilly – musician, producer, songwriter, pioneer, mentor and one-third of the legendary Celtic folk band Ryan's Fancy – died on Saturday of an apparent heart attack.
- Read full story
---

---